How Many Calories Are In An Egg,Egg McMuffin,Egg Yolk?
If you eat eggs often, you may wonder about their calorie content and nutritional profile. This article explains everything you need to know about egg nutrition.
Eggs are considered one of the highest quality forms of protein ahead of cow's milk and beef. Egg whites are especially renowned for their high levels of protein, however yolk contains more on a gram for gram basis.
There are on average between 55 and 80 calories in an egg depending on its size.
Egg whites have 10.8g of protein per 100g but are trumped by egg yolk which contains 16.4g per 100g.
However, as there is more egg white volume than yolk in each egg, white grabs the protein spotlight.
The number of calories in an egg depends on its size. Perhaps unsurprisingly, you can expect a small egg to have slightly fewer calories than a large one.
Here's a general breakdown by size. The calories in each size are based on a large egg containing 72 calories per 50 grams
Keep in mind that this is for a whole, plain egg with no added ingredients.
Small egg (38 grams): 54 calories
Medium egg (44 grams): 63 calories
Large egg (50 grams): 72 calories
Extra-large egg (56 grams): 80 calories
Jumbo egg (63 grams): 90 calories
Comparison Between Egg White and Whole Egg
Egg White

Whole Egg

Calories

17

72

Protein

4 grams

6 grams

Fat

0 grams

5 grams

Saturated Fat

0 grams

2 grams

Vitamin A

0 mcg

270 IU

Vitamin B12

0 mcg

0.5 mcg

Vitamin D

0 IU

41 IU

Folate (DFE)

1 mcg

24 mcg
Source: USDA Food Composition Database
The way you prepare your eggs will of course affect their nutritional value. For instance, if you fry an egg in fat, instead of boiling it, this will increase the number of overall calories.
It is also important to eat your eggs along with other nutrient-rich foods, such as vegetables, salads and whole grains.
There are on average between 55 and 80 calories in an egg depending on its size.
| | | | | | |
| --- | --- | --- | --- | --- | --- |
| Nutrition information | Per small egg (48g) | Per medium size egg (58g) | Per large egg (68g) | Per very large egg (78g) | Per 100g |
| Energy kcal(calories) | 54 | 66 | 78 | 90 | 131 |
| Energy kJ | 227 | 277 | 326 | 377 | 547 |
McDonald's Egg McMuffinNutrition Facts
There are 300 calories in a Egg McMuffin from McDonald's. Most of those calories come from fat (37%) and carbohydrates (40%).
Serving Size
137g

Calories

300
Calories From Fat
110
Amount Per Serving
% Daily Value*

Total Fat

12g
18%
Saturated Fat
6.0g
30%
Trans Fat
0.0g

Cholesterol

245mg
82%

Sodium

760mg
32%

Total Carbohydrates

30g
10%
Dietary Fiber
2g
8%
Sugars
3g

Protein

17g
34%

Vitamin A

15%

Vitamin C

2%

Calcium

15%

Iron

15%
*All percent daily value figures are based on a 2,000 calorie diet.
Calories In Popular Egg Dishes
Once you add oil or butter to a frying pan to cook the egg or serve it alongside bacon, sausage, or cheese, the calorie count increases.
For example, a large egg cooked in 1 tablespoon (14 grams) of butter has approximately 174 calories
An omelet with 3 eggs and cheese cooked in butter has about 400 calories.
Eggs Benedict, comprising 2 poached eggs with an English muffin, Canadian bacon, and hollandaise sauce, has closer to 900 calories
Egg yolks also have a different calorie count than egg whites.
The yolk of a large egg (17 grams) contains 56 calories, while the white of a large egg (34 grams) contains 18 calories
| | | | | |
| --- | --- | --- | --- | --- |
| Egg dish | Calories | Protein (g) | Carbohydrate (g) | Fat (g) |
| One boiled egg, 2 slices toast + 10g margarine | 320 | 15 | 31 | 17 |
| Two egg plain omelette, 200g potatoes | 325 | 19 | 35 | 14 |
| Two scrambled eggs, 1 toasted bagel (60g) | 334 | 20 | 35 | 14 |
Eggs are an incredibly versatile food. From scrambling to poaching, there are many ways to cook an egg to suit your taste preferences.
A large egg has about 72 calories. Smaller eggs have slightly fewer calories, while larger eggs have more. Adding other ingredients during preparation, like cheese or butter, increases the calorie content.
Here'S The Nutritional Profile For A Whole, Large Egg (63 Grams)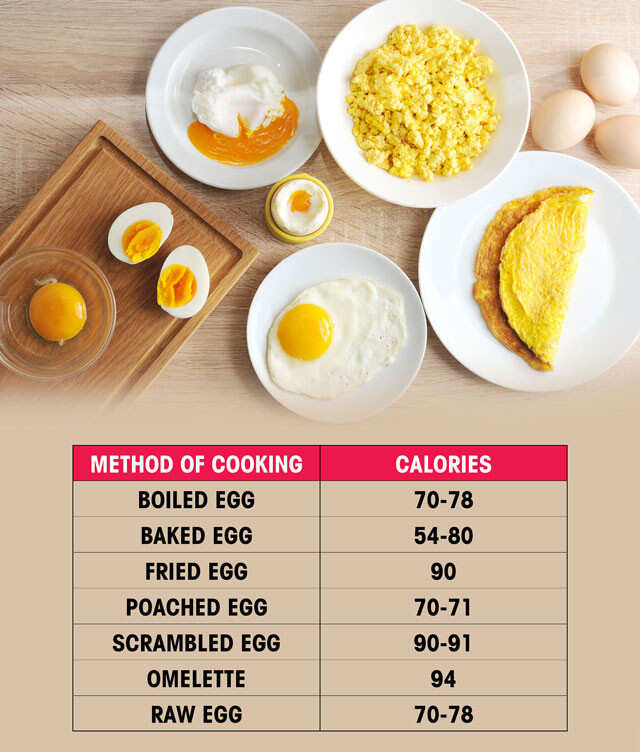 Calories: 72
Protein: 6 grams
Fat: 5 grams
Carbs: less than 1 gram
Choline: 31% of the Daily Value (DV)
Selenium: 28% of the DV
Vitamin B12: 21% of the DV
Vitamin B2 (riboflavin): 16% of the DV
Vitamin D: 6% of the DV
Iron: 5% of the DV
Eggs provide high quality protein alongside many important vitamins and minerals. They're one of only a few foods that provide vitamin D, a nutrient that's vital for healthy bones, immunity, cell growth, and more
Selenium is another important nutrient found in eggs. Among other benefits, this trace mineral is important for reproductive health and the production of thyroid hormone
Eggs also contain lutein and zeaxanthin, two compounds known as carotenoids. They act as antioxidants and help protect your eyes from damage and conditions like macular degeneration and cataracts
Keep in mind that many of the nutrients in eggs are found in the yolk. Eating just egg whites won't provide the same nutrients.
So What'S Healthier—Egg Whites Or Whole Eggs?
"I say eat the whole egg. An egg white isn't healthier than a whole egg," says Amy Goodson, R.D., a sports dietitian in Dallas, Texas. She explains that while people used to fear the cholesterol content in the yolk, "the truth is that eating cholesterol does not raise blood levels of cholesterol. The nutrient benefits of the whole egg are far more valuable," she says.
However, just because egg whites are lower in calories, they're not necessarily healthier than egg yolks. Your body needs adequate calories every day to function optimally and help you feel your best.
Choosing foods based solely on their calorie content isn't the way to approach healthy eating. Instead, prioritize foods based on their nutrient density, which is how nutrient-dense a food is in relation to its calorie content.