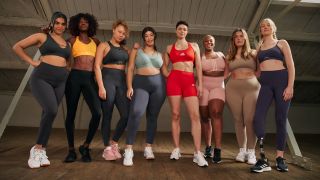 (Image credit: Adidas)
How do you find a well-fitting sports bra? Do you get measured as you would for your normal bra size?
80% of women wear the wrong bra size, but it doesn't have to be this way. From support, to fitting and construction – here's what you need to know to pick the best sports bra for you…
Step 1 – "Check the band that sits under the breast tissue – 80% of your support comes from the band, so this is important to get right. The band should sit flat under your bust and around your rib cage. If it digs in, go up a band size. If it gapes, or the back rides up, go down a size."
Step 2 – "Check the strap length. If they are too loose, they will slip off your shoulder; too tight and they will dig in and be uncomfortable. If the straps are adjustable, tighten them, so they feel comfy, snug and supportive."
Step 3 – "Check your cups, where your breast tissue sits. Lift and scoop the breast tissue into the cups. Check this in the mirror. If you are spilling out at the top, or sides, the cup is too small. If you see gaps anywhere it's too big – go down a size."
To find the right size for you, it's a good idea to check the size guide of the bra you're buying against your bust measurement (use measuring tape to find this). Don't be tempted to size up – bras designed for running or HIIT training are often designed to be tight, or slightly compressive, to minimise movement as you run and jump.
There are three kinds of sports bra so you need to pick one that suits you best
Surprise, surprise! Yes ladies there are three kinds of sports bras in the activewear section of your fave store. Compression, encapsulated, and combination.
Choose a compression sports bra, if you have small breasts
Choose an encapsulated sports bra if you have large breasts and/or you indulge in high-intensity workout sessions.
Choose a combination sports bra if you want 100% support and proper compression.