When it comes to the Top 10 Foods For Naturally Glowing Skin, skincare products can tackle surface-level problems, but eating a well-balanced diet not only helps give your skin health a boost, it also keeps you healthy at the same time.
Healthy and glowing skin is a sign of good health. And you should consume healthy food and follow a diet plan for glowing skin to achieve it. Leave all bad food habits and start following a new lifestyle.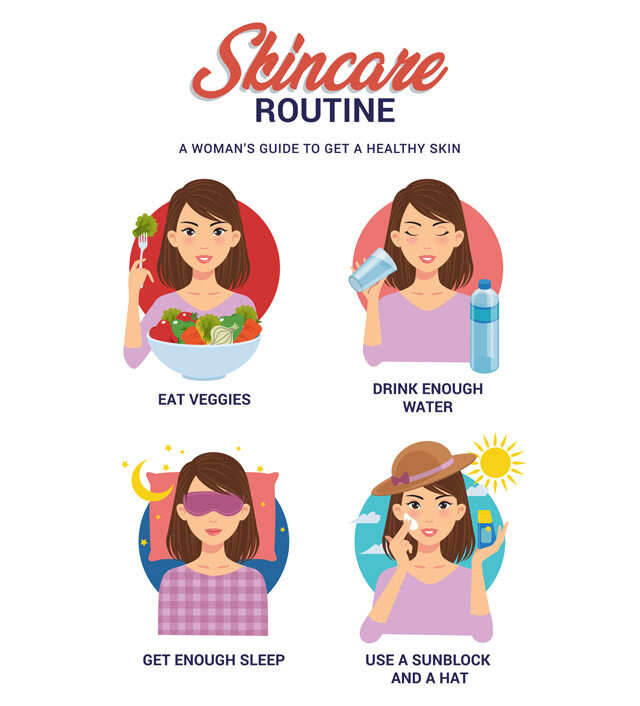 To have that flawless glowing skin your internal health is as important as taking care of your outer skin. Hence it's very important to detoxify your body with these amazing skin-healthy foods to achieve flawless glowing skin.
Enjoying a healthy diet will not only make you stay fit but will also bring a glow on your skin and make it radiant. We all know that the foods we eat, have an impact on our overall health. Hence, eating the right foods is very important to achieve a flawless glowing and radiant skin.
Here is a list of Top 10 Foods For Naturally Glowing Skin
Good nutrition is one of the most important factors needed to maintain healthy skin.
Fruits Rich in Vitamin C
Vitamin C is a very important vitamin for skin health, that is the reason it is used in so many skin products.
Vitamin C helps in protecting the skin from damage caused by the sun's UV rays and also works to keep the skin moisturized and firm.
Enjoying fruits rich in Vitamin C on a daily basis will provide your skin with all the vitamin C it needs to keep healthy.
Citrus fruits like Oranges, Sweet lime, grapefruit are all loaded with vitamin C.
Including these fruits in your daily diet will help you get glowing skin in no time.
Cucumbers
It has always been used in skincare routines from ages because of the cooling effect it provides for the skin.
Cucumbers are high in antioxidants, as well as vitamins C and K, which are all essential for maintaining healthy and bright skin.
They also contribute to the reduction of the appearance of fine lines and dark circles.
Yoghurt
Flawless glowing skin for your internal health is very important, and Yoghurt is a super food for improving your gut health.
A unhealthy gut is a major culprit for many skin ailments.
Yoghurt is loaded with probiotics that help to keep your gut healthy and in turn improve your skin.
Eating yoghurt helps in keeping skin ailments like Acne and skin dryness at bay.
As yoghurt is a dairy product avoid eating it in excess as it may worsen skin problems like acne.
Mangoes
Mango is known as the King of fruits, and the reason for that is because it is loaded with vitamins like A,E and C and has various benefits for the human body.
The wound healing properties of mangoes help in rejuvenating the skin and making it glowing.
Eating mangoes in excess can be bad for your skin as it's a heaty fruit which can cause pimples.
So to enjoy the benefits of the king of fruits eat in moderation.
Carrots
Carrots are good for our eyes, but did you know these orange veggies are also amazing for our skin. They are loaded with nutrients that are beneficial for your skin.
Carrots are high in antioxidant called beta-carotene, which prevents the damage from UV rays of the sun.
Carrots include vitamin A, which helps to repair damaged collagen while also reducing the formation of skin cancer cells in the body.
Dark Chocolate
Dark chocolate is also very beneficial for your skin.
It is a loaded in an antioxidant called Flavinol which works to protect the skin from oxidative stress, which is a the main reason for premature aging of the skin
Even adhering to the principles of proper nutrition for the beauty of the skin, you need to limit the consumption of certain foods. The most important thing is that your diet should be balanced and contains as many healthy foods as possible foods.
List Of Foods to Avoid for Glowing Skin
When you plan to eat right, it is important to strictly limit certain products. This is because a properly organized diet involves refraining from spicy, fatty, fried foods and a complete rejection of some products. Some of these include:
Pastries and sweets
Smoked meats
Cereal flakes and instant cereals
Milk
Caffeinated drinks and alcohol
More Tips for Healthy Nutrition For Naturally Glowing Skin
To restore as well as maintain the elasticity and beauty of the skin with a healthy diet, follow these recommendations:
Give Up Alcohol Addiction
To keep your skin healthy and beautiful, you must quit drinking alcoholic beverages. Experts believe that alcohol abuse is one of the leading causes of skin-related diseases. Thus, for healthier skin, you must quit binge drinking or alcohol abuse.
You can get professional assistance to overcome addiction and live an alcohol-free life. There are plenty of options when it comes to choosing a treatment program. Depending on your condition, you can choose a 30-day rehab program or even a 90-day program. Such treatment will help you get rid of addiction and restore your well-being.
2. Eat At Least Five Meals A Day
You need to include at least five meals in your diet. In this way, you can avoid overeating and prevent the risk of developing gastrointestinal tract diseases. Such diseases harm not only your health and general well-being but also your skin condition. In addition, such a diet helps to increase the absorption of nutrients contained in food.
3. Avoid Eating Foods That Are Too Cold Or Too Hot
When it enters the esophagus and stomach, hot food burns their walls, resulting in the formation of erosions with the further formation of deep ulcers. On the other hand, too cold food gets excreted from the intestines quickly. Thus, the stomach does not have time to digest the contents before it enters the small intestine. In this case, there is a violation of the digestive process and the development of putrefactive processes in the intestine.
4. Chew Food Thoroughly
The process of digestion begins in the mouth. Food masses entering the stomach (including liquids) must be sufficiently moistened with saliva. When chewing each portion of food placed in the mouth, try to make at least forty chewing movements. Human saliva is predominantly alkaline, which is a very important factor in the breakdown of proteins, carbohydrates, and fat-soluble vitamins.
5. Compliance With The Drinking Regimen
A healthy diet should include plenty of fluids. To maintain the health of the skin and the whole body, an adult need to drink at least 1.5 liters of pure water per day. There is an exception for women in late pregnancy and people suffering from kidney pathologies. You can also use green or herbal tea as a drink.
Due to a sharp increase in the amount of fluid consumed per day, swelling may occur at the initial stage of introducing a drinking regimen. In such cases, you should temporarily refrain from eating foods that help retain fluid in body tissues. These include salt, sugar, spices, garlic, and onions. After 5-7 days, gradually introduce them into your daily diet.
6. Adjust Your Diet According To Your Skin Type
With oily skin, it is especially useful to consume greens, white cabbage, onions, and poultry meat. In addition to spicy, fatty foods, alcohol, coffee and black tea, you must exclude the use of kefir, curdled milk, yogurt, and sauerkraut.
If you have dry and sensitive skin, you should eat more cottage cheese, cheese, bran and increase the number of vegetable fats in your diet. It is advisable to refuse the use of onions, garlic, eggs, and various sauces. With a mixed skin type, when dry and oily areas are present at the same time, nutrition should be based on what features you would like to correct.
Foods To Include In Your Diet:
We mentioned earlier which foods to exclude from your diet. Now here are some of the healthy foods needed to normalize digestion and improve skin conditions including:
Vegetables
Fruit
Dried fruits
Berries
Nuts
Cereals
Bitter chocolate
Wholemeal pasta
Black bread
Meat and fish of low-fat varieties
Seafood
All types of dairy products
Unrefined vegetable oils (used exclusively as a dressing for vegetable salads)
QUESTIONS AND ANSWERS ON GLOWING SKIN
1) What foods are bad for your skin?
A. There are a lot of foods that can cause havoc with your skin, and fried and processed foods top this list. It is best to avoid things like fast food, sugar, dairy and refined grains if you want to maintain your skin's youthful glow.
2) What can I eat to make my skin glow?
A. Eating more tropical fruits, foods rich in vitamin C, nuts, etc, helps to make your skin glow. Switching to healthier, non-fried, sugar and dairy-free options also work magically when it comes to keep your skin healthy, youthful and absolutely glowing.
3) What fruit is good for skin?
A. Any fruit that is rich is antioxidants and vitamin C is great to achieve clear and glowing skin. Therefore, fruits like blueberries, raspberries, oranges and strawberries all work really well to support skin health and improve the overall look and texture of your skin.
Bottom Line
A healthy diet can significantly improve the condition of the skin and give it a fresh look and even tone. However, you should not forget that you also need to give up bad habits, normalize sleep patterns, and care for your skin. We also mentioned a list of healthy foods that will help you improve the beauty of your skin.
Try to adhere to the rules of healthy eating and give up bad habits for younger-looking skin.
If your skin is constantly itching, breaking out or inflamed, and you are unsure about what is going on, it's always a good idea to see a dermatologist. Many of these skin conditions can be treated effectively with over-the-counter medications. But in some cases, your skin may be telling you that you have a more serious underlying condition.
Sources
Articles on FitnessHealthInfo are backed by verified information from academic research papers, reputed organizations, research institutions, and medical associations to ensure accuracy and relevance. Check out our
editorial policy
for further details.
Nutrition and Skin, Reviews in Endocrine and Metabolic Disorders, U.S. National Library of Medicine, National Institutes of Health.
https://www.ncbi.nlm.nih.gov/pubmed/27401878
The 12 Best Foods for Healthy Skin. Retrieved on 22/2/20 from https://www.healthline.com/nutrition/12-foods-for-healthy-skin

Anti-Acne Diet. Retrieved on 22/2/20 from https://www.healthline.com/health/anti-acne-diet

What are some skin-friendly foods? Retrieved on 22/2/20 from https://www.medicalnewstoday.com/articles/322986#walnuts
Slideshow: Foods for Healthy, Supple Skin. Retrieved on 22/2/20 from https://www.webmd.com/beauty/ss/slideshow-skin-foods
The Beauty Benefits of Biotin, According to Science. Retrieved on 11/6/20 from https://www.dermstore.com/blog/top_ten/biotin-benefits-hair-skin-nails/
Essential Fatty Acids and Skin Health. Retrieved on 11/6/20 from https://lpi.oregonstate.edu/mic/health-disease/skin-health/essential-fatty-acids#lipid-metabolism
Dietary water affects human skin hydration and biomechanics, Clinical, cosmetic and investigational dermatology, U.S. National Library of Medicine, National Institutes of Health.
https://www.ncbi.nlm.nih.gov/pmc/articles/PMC4529263/
Health Benefits of Fruits and Vegetables, Advances in Nutrition, An International Review Journal, U.S. National Library of Medicine, National Institutes of Health.
https://www.ncbi.nlm.nih.gov/pmc/articles/PMC3649719/
Effects of Turmeric (Curcuma longa) on Skin Health: A Systematic Review of the Clinical Evidence, Phytotherapy Research, U.S. National Library of Medicine, National Institutes of Health.
https://www.ncbi.nlm.nih.gov/pubmed/27213821
More Sources about Foods For Naturally Glowing Skin: