Here are the best weight loss apps for men and women available in 2022 that can help you shed unwanted kgs
While you can essentially set any app to put a time goal on weight loss, some are specifically focused on getting you there in a speedy fashion.
1.Lifesum
Free, with in-app purchases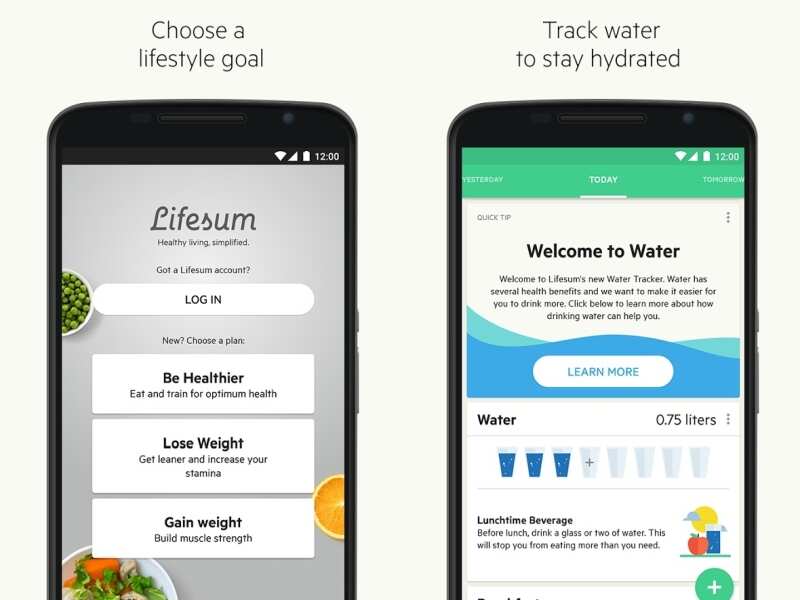 You'll identify your diet (low-sugar, keto, fasting, high-protein, paleo, or another diet) and enter your food to track both calories and macronutrients (protein, carbs, fat) all with the goal of losing weight.
For quick weight loss, try their three-week program, which features preplanned meals and shopping lists starting at $3.75 per month.
This one has some scientific backing: In a study published in May 2019 in JMIR mHealth uHealth, which evaluated and used the top seven diet apps on iOS (Apple) and Android, Lifesum was awarded the highest score in terms of usability.
2.Lose Weight in 30 Days 
Free, with in-app purchases
This is a subscription-based program. So while it's free to download, you pay $9.99 per month or $59.99 per year.
The highly ranked program is focused on 30 days of workouts, but it also offers a meal plan. Because it provides guidance on workouts that you want to check off every day (instead of you deciding what you're going to do and then putting it into the app), it can help you stick to a full month of activity.
Info can be synchronized with Google Fit or Apple Health, making it easy to keep all your data in one place.
3.Sweat
Free, with in-app purchases
This program is fitness-based, but also includes recipes and meal plans, and offers connection through the Sweat community to offer social support in your weight loss journey.
Geared toward women who are looking to get strong and lose weight, the app offers 10 programs, including home options, weightlifting, and postpartum workouts.
The way the workouts are structured makes it incredibly easy to follow; they're also designed to progress in difficulty, so they're suitable for beginners but challenging enough to keep you interested for the long haul.
Though you can download the app itself for free, Sweat is a monthly or yearly subscription-based program. (It costs $19.99 per month or $119.94 annually.)
Best Weight Loss Apps for Women
These apps are best for offering personalized weight loss support.
1.Noom 
Free, with in-app purchases
One of the fastest-rising weight loss apps in terms of popularity, Noom has the requisite calorie and activity trackers but dives into your psyche more than others.
The app connects you with a personal coach, and with #PsychTricks, it focuses heavily on the behind-the-scenes psychological and emotional reasons you may be overeating.
A study published in November 2016 in Scientific Reports on nearly 36,000 Noom users found that 78 percent reported they lost weight while using the app.
Unsurprisingly, dieters who used the app more were more likely to lose weight, and those who kept a stricter schedule recording their weight were less likely to yo-yo.
Best Weight Loss Apps for Men
Look for an app that's clear-cut, features handy visuals (like charts and graphs), has a community of like-minded guys, and challenges you to better yourself.
1.WW 
Free, with in-app purchases
Formerly Weight Watchers, WW is known as one of the best weight loss diets, according to U.S. News & World Report, and it doesn't disappoint when it comes to men.
Not only does WW make it easy to chart points, it also has a robust restaurant database and a bank of 4,000 WW recipes. What's more, you can use Connect, the WW members-only social network, including the #WWBros, an easy way for male members to stay in touch.
2.Strides: Habit Tracker 
Free, with in-app purchases
Available only on iOS, Strides stands out in that you can track your weight along with the habits that have been shown to factor into that weight — sleep, exercise, hydration, junk food consumption — that you want to change or improve on. (The free version of the app allows you to work on seven habits at a time.)
Chart your progress via calendars, line charts, and bar graphs for a visual that makes it easy to check in with yourself.
The way the app's filter is set up, it tells you what task to take on next (like a morning walk) to "build the perfect day."
3.Centr, by Chris Hemsworth
Free, with in-app purchases
With the purchase of a program, you'll get access to six-week programs that require no or little equipment.
Exercises, which range from HIIT and boxing to yoga, strength, and MMA, take 20 to 40 minutes.
What's more, dietitian-approved meal and snack ideas, plus shopping lists and options to fit various diet preferences make eating healthy easier.
There's also a dedication to prioritizing mental health with guided meditations, sleep activities, and stress-management tips for general wellbeing.
Experts include Chris Hemsworth's personal trainer Luke Zocchi, a nutrition coach, holistic psychotherapist, and a Michelin-trained chef.