The great thing about healthy smoothie recipes is that there isn't any one particular way to make them – depending on the fruits you have available at home or whatever you like at the store, a smoothie can be made in as many ways as possible. Smoothies are also quick to make, as long as you've got a blender with you, and they certainly pack a punch!
Here are some refreshing healthy smoothie recipes to beat the beat. Browse through them, choose your favorites and let's drink smoothies today!
1.4-Ingredient Mango Orange Banana Smoothie
4-ingredient thick and creamy mango orange banana smoothie is 100% healthy, contains no sugars or artificial sweeteners.
2.Creamy Kale Smoothie
This smoothie is from the Balanced Gut section of Smoothies & Juices. Packed with protein and probiotics, Greek yogurt is a natural gut-health booster.
In a blender, combine 1 cup coarsely chopped kale, 1 1/2 cup frozen pineapple chunks, 1/2 cup plain Greek yogurt, 1/2 cup unsweetened almond milk, and 1 tsp honey.
Blend until the mixture is smooth and frothy.

Nutrition (per serving): 296 calories, 8.5 g fat (3 g sat fat), 14 g protein, 45 g carbs (5 g fiber), 36 g sugars (6 g added sugar)
3. Peach Blueberry Smoothie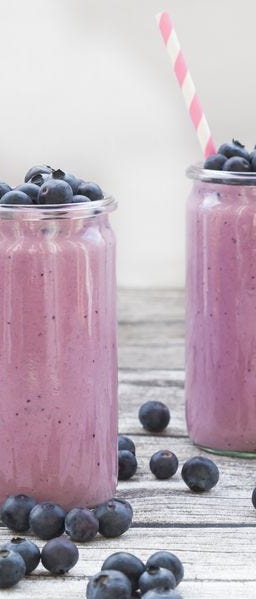 LARISSA VERONESI GETTY IMAGES

This sweet blend will have you feeling like it's summertime in the dead of winter with blueberries and peaches. Plus, you'll get your daily dose of greens with nutrient-rich kale. A dash of cinnamon is the perfect touch.
In a blender, combine 1 cup chilled almond or vanilla soy milk, 4 slices fresh or frozen peaches (about 1/2 cup), 1/4 cup blueberries, handful of kale, and 1/4 tsp. ground cinnamon. Blend until smooth.
Nutrition (per serving): 170 calories, 4 g fat, 8.5 g protein, 26 g carb (4 g fiber), 17 g sugars
4. Berry-Banana-Oat Smoothie
Oats add body to your smoothies, plus the resistant starch this whole grain contains helps you feel fuller longer.
Another bonus of resistant starch? It causes less gas than other fibers.
In a blender, combine 2 cups frozen strawberries, 1 cup vanilla low-fat yogurt, 1 banana, sliced, 1/2 cup rolled oats, 1/2 cup orange juice, and 1 Tbsp honey.
Blend until the mixture is smooth, serves 4.
Nutrition (per serving): 171 calories, 2 g fat (1 g sat fat), 5 g protein, 36 g carbs (3.5 g fiber), 23 g sugars (4.5 g added sugar)
5.Tropical Citrus Smoothie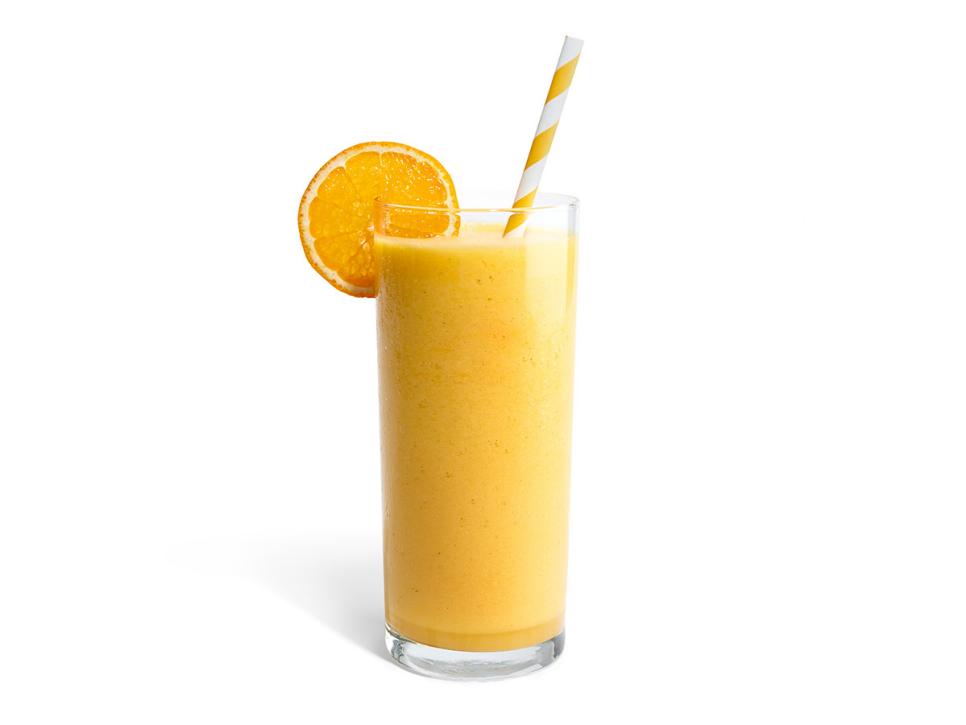 Blend 1 peeled clementine, 1 1/2 cups frozen pineapple chunks, 1/2 cup frozen mango chunks, 2/3 cup unsweetened coconut milk beverage, 2 teaspoons light brown sugar, 1/4 teaspoon each ground turmeric and grated lime zest and 1 teaspoon lime juice in a blender until smooth.
Pour into a glass and garnish with a clementine slice.